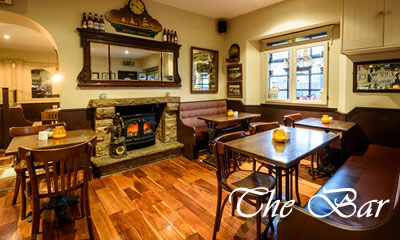 Our bar and restaurant offer a cosy,warm and relaxing atmosphere with a nautical theme evident right throughout the décor and building. Our menu takes great pride in supporting a number of local producers and suppliers. All our ingredients are sourced locally and delivered in a professional and friendly manner.
Throughout our menu you will see a range of great local suppliers, with oysters and mussels from Jamie in Oysterhaven, ducks from Skanore Farms, local prawns from Sean Maher's trawler and strawberries from Roscarberry Farms to mention a few.
More can be viewed on our Menu page
Our gastro pub and alacarte menu is available from 12pm to 9pm daily, in addition we have daily specials and a value menu also available all day.
Our pub has a great selection of local craft beers and spirits. We have IPAs from Black's Brewery of Kinsale , cider from Stonewell of Noval and red ale from White Deer in Ballyvourney.
Our range of local gins include Kinsale gin, Blackwater gin and Black's gin.
Some of our local whiskeys include Pogues from West Cork and the world famous Middleton very rare.
We also stock the newly launched Kinsale Mead.
You will also find these wonderful spirits in our extensive cocktail list.
Awards / Memberships
* Best Pub with Food National Hospitality Awards 2012 - www.nationalhospitalityawards.com
* Jacob's Creek Irish Restaurant Awards 2013, winner best gastro pub, Munster.
* Restaurant Association of Ireland 2020 - www.rai.ie   
(Liam Edwards is the current President of the restaurant association of Ireland) 
* Kinsale Good Food Circle Member 2020 - www.kinsalerestaurants.ie
* Good Food Ireland Member 2020 - www.goodfoodireland.ie
* Certificate of Excellance 2020 - Trip Advisor - www.tripadvisor.com
* Best gastro pub in munster 2020 - Good Food Eating Guide
Recommendations
* Recommended Good Food Ireland/Wild Atlantic Way 2020 - The Wild Alantic Way Guide to West Cork >>
* Recommended TripAdvisor 2020 - Restaurant Review >>
* Recommended by Lucinda O'Sullivan's Great Plas ces To Eat 2020
* Recommended by Georgina Campbell's Ireland 2020
* Recommended by McKennas Guides' 2020
"For forty five years, Jim Edwards has been a standard bearer in Kinsale's distinguished culinary culture.
Everything chimes sweetly in Jim Edwards, one of the archetypal destinations that built Kinsale's reputation as the first town in Ireland to become a dining destination, more than forty years ago. With Liam Edwards at the helm, the bar and the dining room - and their accommodation rooms upstairs - offer everything the visitor to Kinsale is looking for: a great welcome and great service; charm; comfort; and of course good cooking. We really admire the fact that they serve the great classic dishes - kidneys Madeira; Kinsale mussels with garlic breadcrumbs; black sole on the bone - and do so with such aplomb. If you are seeking the esscence of Kinsale, then you will find it right here in Jim Edwards."

- John McKenna - McKennas' Guides